I just noticed that, before this post, the last flash post (Flash Post 015: Summer Rant) was written a bit more than 2 months ago! Well, I wasn't able to post anything last July so…
Anyways, I've learned an important thing about life recently due to a rather terrible event. I've learned that we shouldn't take time for granted because the time that has already passed is time lost- you can never get it back. Our time here on Earth is very short and uncertain, so be careful how you choose to spend it. It's an awful feeling to want to go back in time to change things when you can't.
I'm really no good with time management and prioritizing. I'm easily distracted, forgetful, stubborn, and a bit lazy, to be honest, so basically I'm the worst at time management haha. But I'm working on it (sort of) and I hope what happened yesterday won't happen again. I'll make sure of it.
How do you know if you're wasting time? Well, for starters, I can tell if I'm wasting time when I know I have something more important to do (usually school-related), but I choose to do something else. You might say that you're doing something important, as well, BUT let me tell you that cramming lessons for an exam the night before (or even hours before) and cramming a paper MINUTES before the online submission IS NEVER NOT HORRIBLE!! Yes, I'm talking from experience cos' I've done both and I still regret doing so till' this day (and probably for as long as I live).
So, if you know you're procrastinating (even if you're procrastinating by doing something that's productive, but it isn't what you're supposed to be doing), I suggest you stop and face your exam or project HEAD ON. I know it's easier said than done, like most things, but it'll be worth doing it. Trust me, you'll save yourself from utter insanity if you do it earlier than the deadline. Been there, done that… TOO MANY TIMES!!
How to spend time wisely? Write everything down! I'm no good with planners, but I usually keep track of important dates (exams, birthdays, family stuff, etc.) by using the calendar on my phone. Occasionally, I write down a "to-do list" on paper or on a sticky note in my computer, which I should probably do more often. Listing it down makes you aware of everything that has to be done, so I think it's very helpful, well at least in my case.
My second tip would be to prioritize, like legit prioritizing, and stick to it. I know school stuff isn't fun to do and you'd rather just binge watch a television series or read a good book BUT you've got to put it somewhere on the top of your list to avoid previously warned "utter insanity". It's also important to spend time with family and friends, so allot time for that, too. Make sure you're well-being is also intact- you're eating healthy, you've got your "me" time, you're okay in all aspects (physical, mental, spiritual, emotional, etc.), and you're happy (WHICH IS VERY IMPORTANT). Also, joining an organization, trying new things, and rendering service to your community are very fulfilling activities, so when you've got the time, I suggest you engage in such activities, as well.
Lastly, for you to know that you've spent your time wisely, I think you should do the things you want to do, given that it doesn't evade the first two tips. I just think not being able to do so is a waste of your little time here on Earth. Whether it's choosing the college degree you really want (even if your parents want something else for you) or travelling outside your country and exploring the world. It's not a waste  if you love what you're doing (again, given that you're not evading the first two tips). If you love writing, like me, make the time to write even during your busy schedules. It's not easy, but I've seen people have social lives, pursue their passions, and keep their sanity (most of the time), ALL THE WHILE excelling in school-related stuff. If they can do it, so can we.
You trip and fall down a lot of times in life, but you can learn from these mistakes and become an improved version of yourself. I believe you can. So should you.
ALSO if you're still thinking of procrastinating and cramming something, even after reading all that I've written in this post.. I crammed studying for TWO EXAMS hours before the exams and, trust me, you don't want to go there. I still don't know what I got, but I hope you never have to experience such helplessness.
LIVE. LAUGH. LOVE
P.S. I hope you're not reading this while procrastinating, but if you are, I hope you've come to the realization that you should start getting shit done. Now.
---
---
Well, I took my statics and statistics exams yesterday and, though I did get to answer some items, I didn't finish the exam and I don't know anymore. What I do know is that I should never do that again. Nope. Never again.
I didn't have classes today, so I ate out with friends and got a haircut. I was thinking of getting a haircut for quite some time now, actually, but this haircut is for the two exams I didn't properly study for yesterday.
Actually, I think I'd have to cut off all of my hair to represent that one, but this'll have to do. I'm not heartbroken nor am I going through anything.. I just didn't study for those exams.
Till' next time 🙂
Me (The Flash) trying to run faster than my acads (Zoom)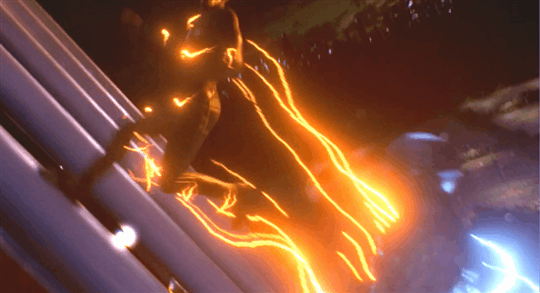 (Spoiler Alert: The Flash beats Zoom by making a time remnant and if he can beat acads, so can we! ❤ )