Well, I'm at the school library once again. And I just passed my homework that was given a WEEK before which I only tried answering today. I know it's horrible and I'm such a mess right now. Thinking about it- when am I not a mess? HA. I should really get my shit together if I plan on getting through college and life.
AND THAT IS WHY I'M WRITING THIS POST!! I'm really stubborn, forgetful, and horrible at time management and prioritizing, SO I'm gonna try to list down the stuff I should never do again in this lifetime.. Well, they're more like do it again AT YOUR OWN RISK stuff, really. To clarify, these are things we should NEVER do.. They're not resolutions; they're a list of "at least never mess up this much in life again".
I AM NEVER…
Cramming a week's worth of problem exercises in 4 hours….
Studying for TWO exams I'm gonna take on the same day.. the night/morning before….
Cramming a lot of lecture's worth of info.. in one night (give or take 12 hours..)….
Drinking more than 2 servings of coffee in less than 12 hours….
Cramming a writing assignment, given WEEKS BEFORE, a few minutes before its deadline….
Attempting to binge watch an anime with 24 EPISODES within a day….
Sleeping through a whole 2-hour/3-hour lecture class….
Getting a sprain because my crush and I just passed by each other….
Cramming for a recitation class by studying an e-book in my phone ON THE JEEPNEY RIDE TO SAID CLASS….
Reading A READING THAT ISN'T THE SCHEDULED ONE during my service as a lector….
Eating too much of something in such a little period of time….
Spending A LOT OF MONEY and shipping stuff to someone I don't even personally know…. who's staying in ANOTHER COUNTRY….
Taking another semester of Engineering Drawing (I passed already tho lmao)….
Writing a blog post about how I thought my close friend was getting in the way of me getting in a certain section (which ended up with us not being as close as before)….
Cutting a class to try enlisting in another class THAT HAS A SEPARATE DISCUSSION CLASS WITH TIME SLOTS THAT DO NOT FIT MY SCHEDULE…..
…..
EVER AGAIN!!
Okay, that's 15 + "…."  things. All things considered, I'd say it's only a few of the things I've done that I should never do again. I'm a human being– a really messy one at that– so this much is understandable, I think. Well, I'm a work in progress and I sure hope I can remember to not do all those things again.
That's it for this Flash Post (in the library 002), I guess haha. Till' next time~!
LIVE. LAUGH. LOVE
---
---
To my parents, if you're reading this, yes I know I've made a lot of terrible mistakes. But I'm working on it and these things just take time. I'll make you proud. I promise.
Me when I found out that the homework was due today: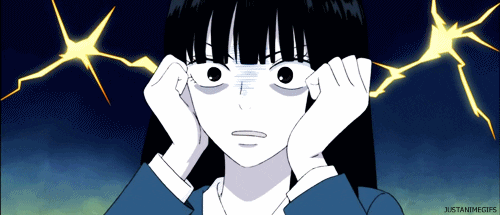 Me whenever I think I've successfully talked to someone:
Me most of the time:
My crush (hihi):
Me to my crush: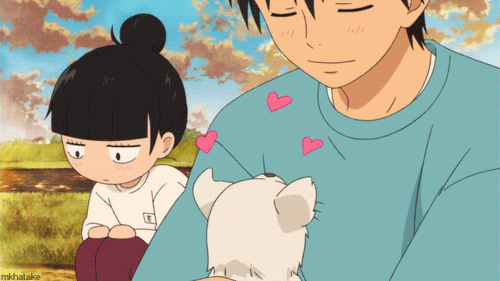 Am I getting addicted to gif's?
Probably..