It's almost Holy Week and I don't have classes next week! THE WHOLE FREAKING WEEK! After struggling to survive the previous weeks, next week really seems like paradise. Though I won't be able to go to Ozine Fest this weekend, I can't be down on the rut. So, I decided to finally make the second "My Favorite Things" board! It doesn't have as many stuffs as the first one, probably because I haven't finished any anime after Bungou Stray Dogs. But anyway, here it goes:
1. W: Two Worlds
I finished this KDrama just 2 weeks ago, so you could say I'm still a bit not over it. It's the roller coaster kind of drama that keeps you on the edge every episode. Though I wasn't that hooked by the first episode, the succeeding episodes got me hooked af. It's a lot more than a romance drama because there's a lot of action and a pinch of comedy, too.
If you haven't watched it yet, I definitely recommend that you do. I won't spoil you on anything, but I think what got me curious about it, besides the very swoon-worthy actor that plays the main character, is that the male character is a character (protagonist, actually) of the manhwa (Korean webtoon) that the female protagonist's dad writes. THE PROTAGONISTS ARE FROM DIFFERENT WORLDS! So, yes, fantastic plot and great acting! Go watch it!!
2. Omeleto
I discovered Omeleto through Facebook. I was just browsing through my feed and saw a video of theirs that really hit me (the first video here). Then, I visited their Facebook page and watched several other videos. Some videos made me realize things while others made my tear up in public places. In any case, their videos are nothing short of amazing. I think most of them, if not all, are short and simple, so it doesn't take much of your time. I can't promise you'd recover quickly though, but still. Try watching the videos above and see for yourself.
3. Toasted Siopao & Lemonade
I decided to include this snack and drink because recently, they've been my on-the-go meal and comfort food. Toasted siopao is best when hot and lemonade on a really hot day is just p e r f e c t.
4. Weightlifting Fairy Kim Bok Joo
Over Christmas break, I was already seeing stuff about this KDrama in my Facebook feed, but I wasn't able to start it then. Flash forward to my first day of second sem. I had a 3-hour break because the professor announced that there weren't going to meet, so I went with my friends to their condominium. They were supposed to watch the fourth episode, but for my sake, we watched the first episode. It was cute and funny. It's the light kind of drama that makes you have butterflies in your tummy (NOT LITERALLY!). It's of the romantic comedy genre and the ending is VERY satisfying.
Also, the female and male protagonist are kind of a notch away from the usual kind. Here, the female lead is a weightlifter who eats a lot (F.S.R.N.!!) and very relatable! I admire her for that. On the other hand, the male lead is a swimmer and he's very childish (sometimes to the point of being sorta annoying). So, yes, it's really nice and light, so try watching it!
By the way, "do you like Messi?~" HAHAHA
5. Michael Christian Martinez and Yuzuru Hanyu
Michael Martinez SP:
Michael Martinez FS:
Yuzuru Hanyu SP:
Yuzuru Hanyu FP:
I'm still very much into skating, in such a way that I attended the Yuri on Ice convention almost three weeks ago, actually skated four weeks ago, and I've been watching skating videos from the recently held Worlds 2017. There's no question that these two are my favorite skaters. The bias is probably because Michael is a Filipino skater and while watching Yuri on Ice, besides watching Michael's performances, I also started watching Yuzuru's. But I am starting to watch other skaters' performances, like Shoma Uno's and Evgenia Medvedeva's.
I would like to give a round of applause to all of the skaters who competed at the World's cause' even though I haven't watched all the videos, qualifying for Worlds and executing such beautiful performances on ice is SERIOUSLY challenging. Balancing on ice is hard enough for me, so HAHAHA. Whether they already qualify for the Winter Olympics 2018 or not, hats off to you wonderful people!
So, going back to my favorite skaters, at the moment, I've been watching their videos non-stop. Like, seriously, last week was basically "It's Holy Week next week",  "YUZURU  FVBUQQVJBJKJI", and "MICHAEEEEL WHFUWFHVBCVHQBCFUEUF". I kinda stalked them a bit and searched a bit more about them over the net, but none of that here haha.
Just adding a few stuff here HAHAHA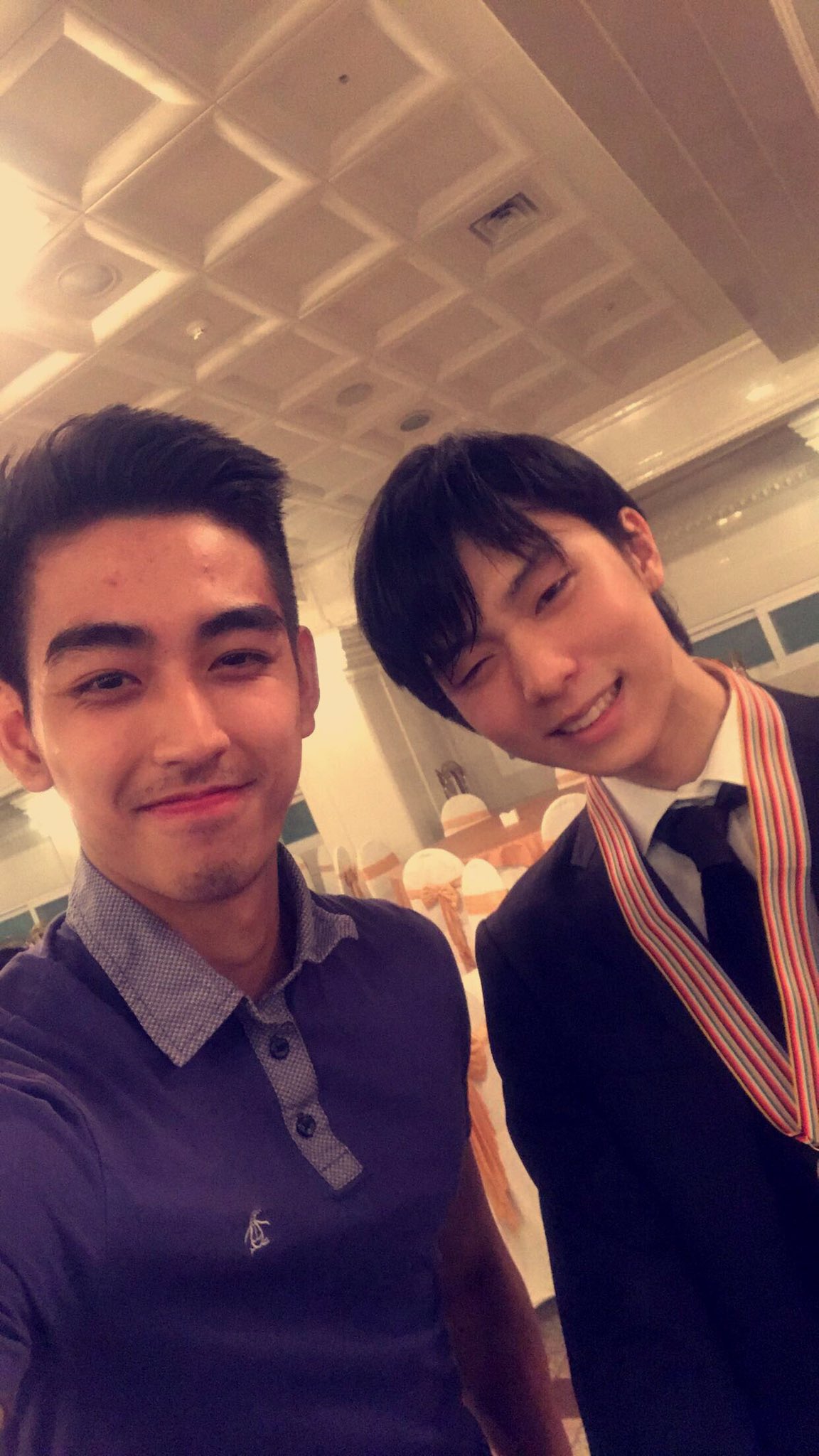 So, there ya go haha. My week in a nutshell. Credits to the respective owners of the videos I got from Youtube. The picture of Michael and Yuzuru and Michael's tweet is from Michael's twitter. You should check it all out haha. AGAIN, I DO NOT OWN ANY OF THE VIDEOS AND PICTURES I'VE INCLUDED HERE IN THIS POST. CREDITS TO THEIR RIGHTFUL OWNERS.
LIVE. LAUGH. LOVE